I am getting all ready for an old friend from High School's wedding.  It got me thinking about us as kids, when we were BFFs.  I have always been into preserving memories with my camera.  Since I can remember.  I have boxes of photos going as far back as the 6th grade!  I was what? 12? So I don't like to count that as "photography" LOL now that I know what REAL photography is.  But for me it was about preserving the small moments in life and using them to look back on.  Well, along with photos I always saved my "letters" if you were born in the 80's you know what I'm talkin about!  The letters you'd write your friends in class and give to them on your way from one class to another in junior high and high school.  I am so not kidding I have a HUGE box that contains every letter ever written I think LOL!  But I had pulled aside a couple I found from Kelsey. Kelsey is my friend that is getting married this weekend.  It was Kelsey, Sarah, and I that were really close friends.  I was a year older so I was the "driver" oh yeah, and by driver I don't mean I had a sick fancy new car like most kids at our school!  I drove a 1970 Volkswagen BUG!!!  TAN of all colors!  ….Herby was his name!  …duh! cuz you always named your cars when you were in High School!!!  ALWAYS!  This baby was HOT!  I have so many memories with these girls and Herby!  We went through our first loves and our first heart breaks and everything in between. 
I am so thrilled to be the one to capture the memories of the marriage between Kelsey and her eternal love, Colin.  I thought it would be funny to post a few photos I took of a couple letters I found between us back in the day! …don't worry Kels I blurred out the good stuff 😉  and it wouldn't be a throw back post if I didn't post a couple embarrassing old photos of us…
I love the photo in the center below, Kelsey wrote U (heart) Anthony (my old boyfriend of a whole whopping month LOL but back then that was FOREVER!) and under that she wrote I (heart) ________.  I thought it was so fitting.  I can fill it in now with the name Colin!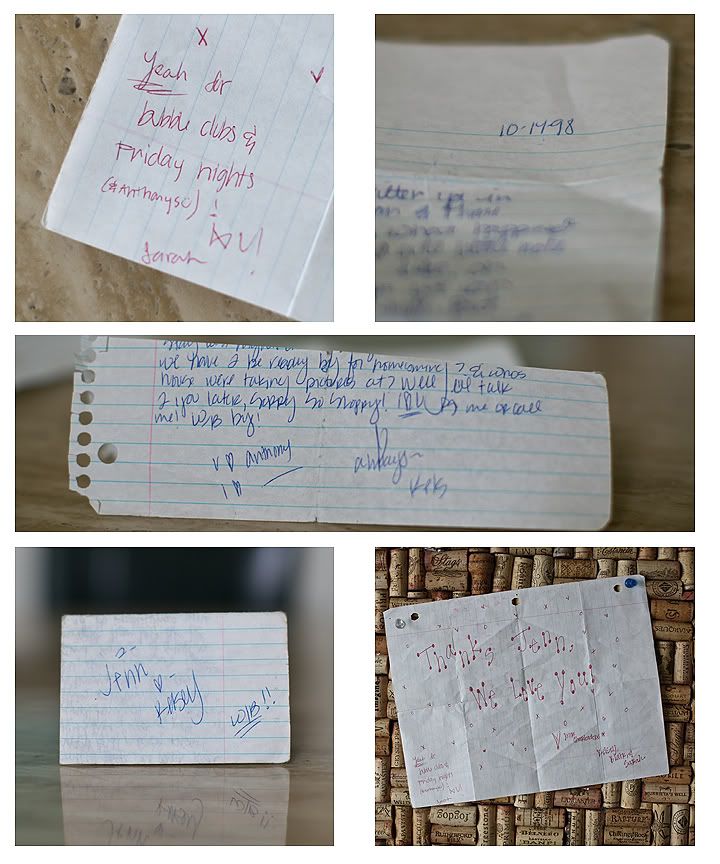 The bottom right photo was a note Kelsey, Sarah, and our friend Blair wrote for me for some reason.  I can't remember why but they wrote a little Thank You note and signed it Love Your Cheerleaders, Kelsey, Blair, and Sarah.  It made me pause for a bit.  Blair was an old friend, very close with Kelsey especially.  She passed away the year after I graduated High School.  I feel like I found the note for a reason.   A little sign that Blair is here watching with anticipation and will be watching over Kelsey on her big day.